As requested by vilnis here is the translation from the german blog entry.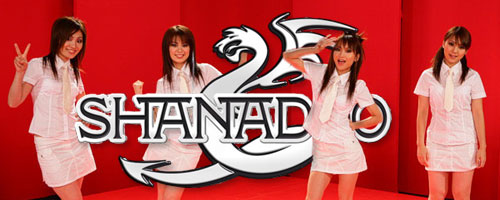 We shall see how many girlies are searching for that pseudo japan-import Shanadoo. Everyone of you should do something for his general education or at least know whats been reported at Bravo (german teen magazine). I came to this Candy Pop Group over a video shown at Viva2 (german music television). At first I thought "cool, Dance Dance Revolution over satellit (broadcasting)" but at second I realized it as a "normal" video (flash). If you did this song (iTunes Germany – rank 83) to you, you are on speed, red bull and green tea at once!
The Para-Para-Dance (flash) and the Making-Of (flash) is fittingly funny :).
The song text is deeply moving which proves my theory that there was something going on between King Kong and the blonde woman.
DAKISHIMETE KING KONG Do it Right
KONO MACHI WA JUNGLE All Night Long
KIMIDAKE WO SAGASHITETA
KONOKOI WO ZETTAI TSUKAMOH…
(per google/altavista übersetzen geht leider nicht)
THIS IS NO FAN PAGE – Aaah, well then, we shall see, amen (insider *g*)